Candle of the Month – Summer Smoothie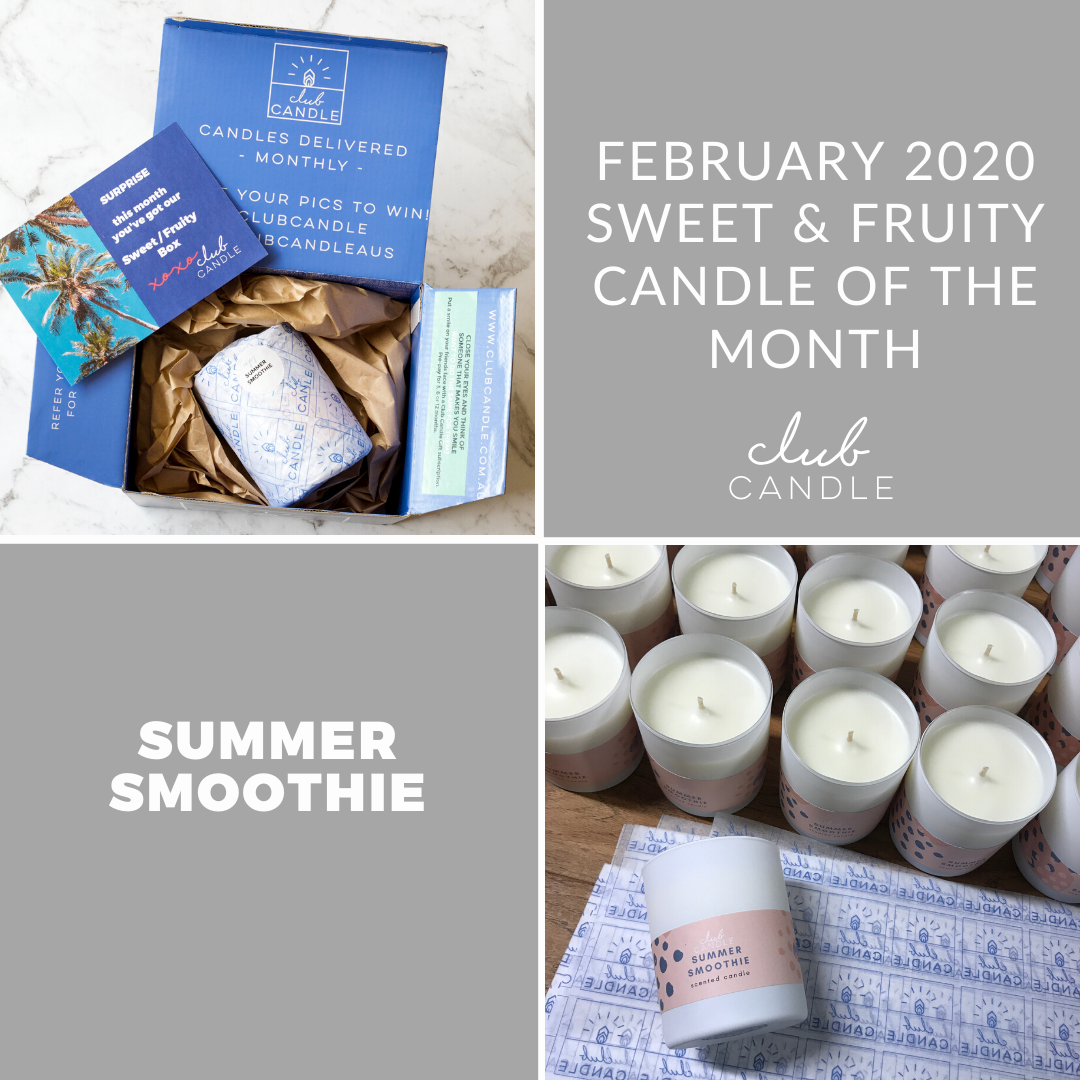 Our February 2020 Sweet / Fruity Candle of the Month is... 
Summer Smoothie
We toyed with the idea of a candle that smells good enough to drink. Imagine blending juicy tangerines and oranges, with a full punnet of fresh mixed berries. A dollop of creamy yogurt and just a hint of fresh ginger to create a candle that smells just like an amazing summer smoothie.
This was such a fun scent. This candle comes in a matte white container and lid. I created almost a collar around the candle like you'd see on a takeaway cup. The label is pastel and covered in pinks and purples and creamy white to replicate the berries and cream in this candle.
Where did the inspiration come from for this candle?
I left school when I was in year 10, so I'm self-taught in most things. Hence my terrible technology skills haha. I've been playing with canva recently and have learnt how to make animated images. You know the ones where the products magically dance around by themselves. Well, with practising that process recently I thought how cool would it be if I could make out I'm putting things like fruit and yogurt into a container, just like in a morning smoothie, shaking and a candle appears. Now I should state that we don't actually put fruit and yogurt into our candles. All candles are created using fragrance and essential oils. Essential oils all come from the flowers, fruit or leaves so I thought it would be visually cool to see actual things going into your candle to represent the scents that you'll smell.
Want to buy this summer delight candle?
Our Summer Smoothie candle is available now. It's the best way to get exactly what you want.
I have so much fun creating different candles for you every month. I've always been a creative, crafty person and I love sourcing new candle styles and scents to keep you guessing. If you're not sure if you want to join the club, then take a look at our 'try BEFORE you subscribe' option where you can pick up a surprise candle box – or both to try. It's a really great way to enjoy or Club Candle experience.
---