Candle of the Month – Create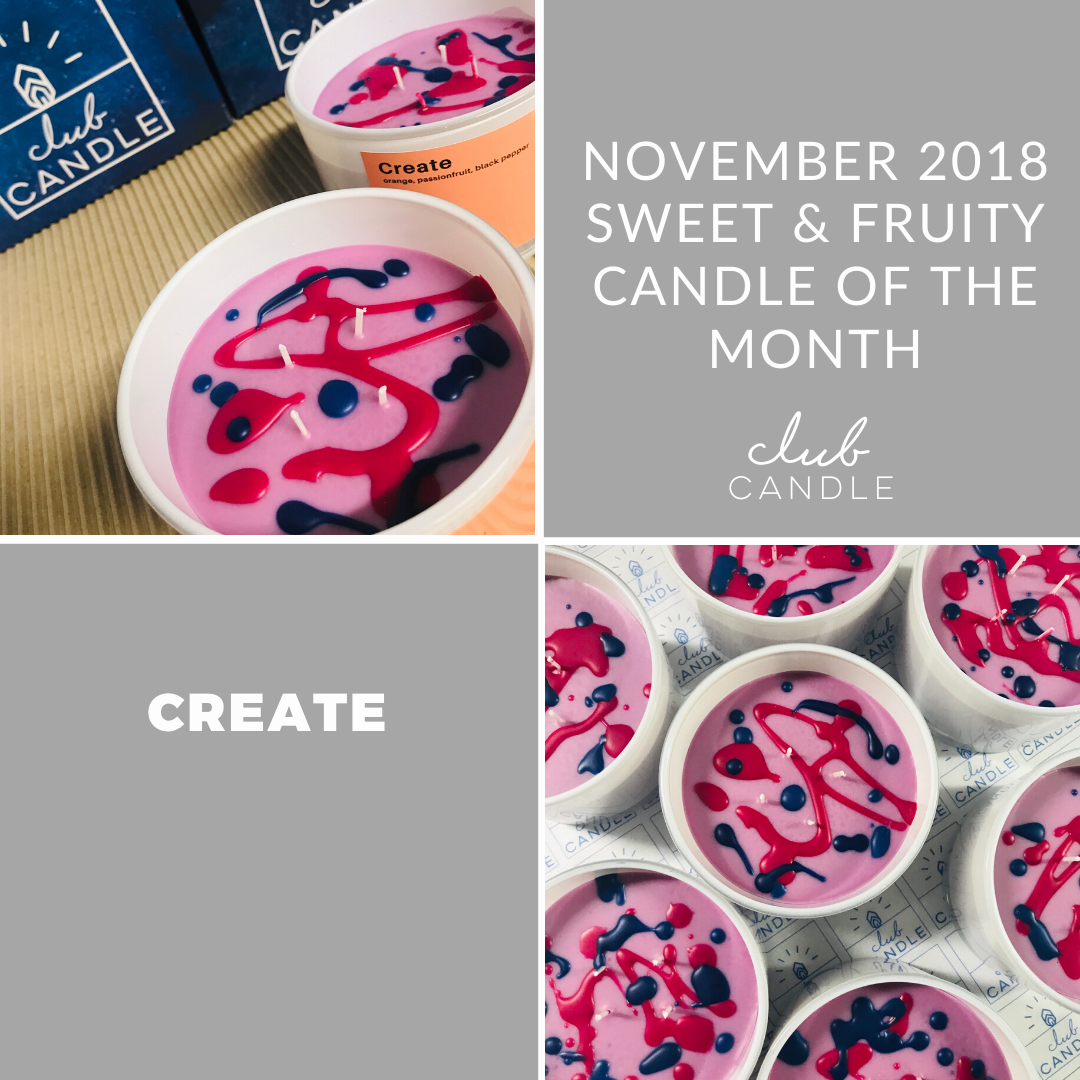 Our November 2019 Sweet and Fruity Candle of the Month is...
Create
Orange, Passionfruit and Black Pepper
We had so much fun with this candle, we were inspired by the scent and got creative with the wax and have wanted to try a graffiti-like pattern on the top of the candle for ages. Scent is a powerful force, it's surprising how it can alter your mental state. Citrus and fruity notes are known to enhance creativity.
It's said that Leonardo Da Vinci used the citrus oils as a method of inducing his artistic inspiration.
Certain scents can help enhance creativity.
Orange stimulates joy and eases anxiety
Passionfruit boosts enthusiasm and optimism
Black Pepper increases alertness and stamina
This candle has citrus notes of orange and lemongrass, with a hint of pineapple and a juicy spoonful of passionfruit. A surprising addition of black pepper grounds the scent and completes the profile. We created a purple wax to emulate the passionfruit and topped it off with a graffiti sprinkle of red and blue wax. Did you know even colour can help increase creativity?
Every month we enjoy making different candles, we like pushing boundaries with both concept and fragrance combinations. In all my years of candle making, I haven't seen one quite like this. Were you surprised when you opened the box and unwrapped the candle? I had a few customers reach out and say that this candle really brought a smile to their face. The Candle Subscription Club was designed for that very reason. Life can be tough. We want to try and give you a little surprise each month, to hear that we can make you happy means we have succeeded. We started out with a mission to bring the joy of candles and gift giving – whether it's a surprise for a friend or one for yourself.
Want to buy this cool creative candle?
Our Create candle is available now. It's the best way to get exactly what you want. 
Take a look at our Surprise box it's a great way to treat yourself each month to a special something to increase your joy.
---