Candle of the Month – Tobacco + Oud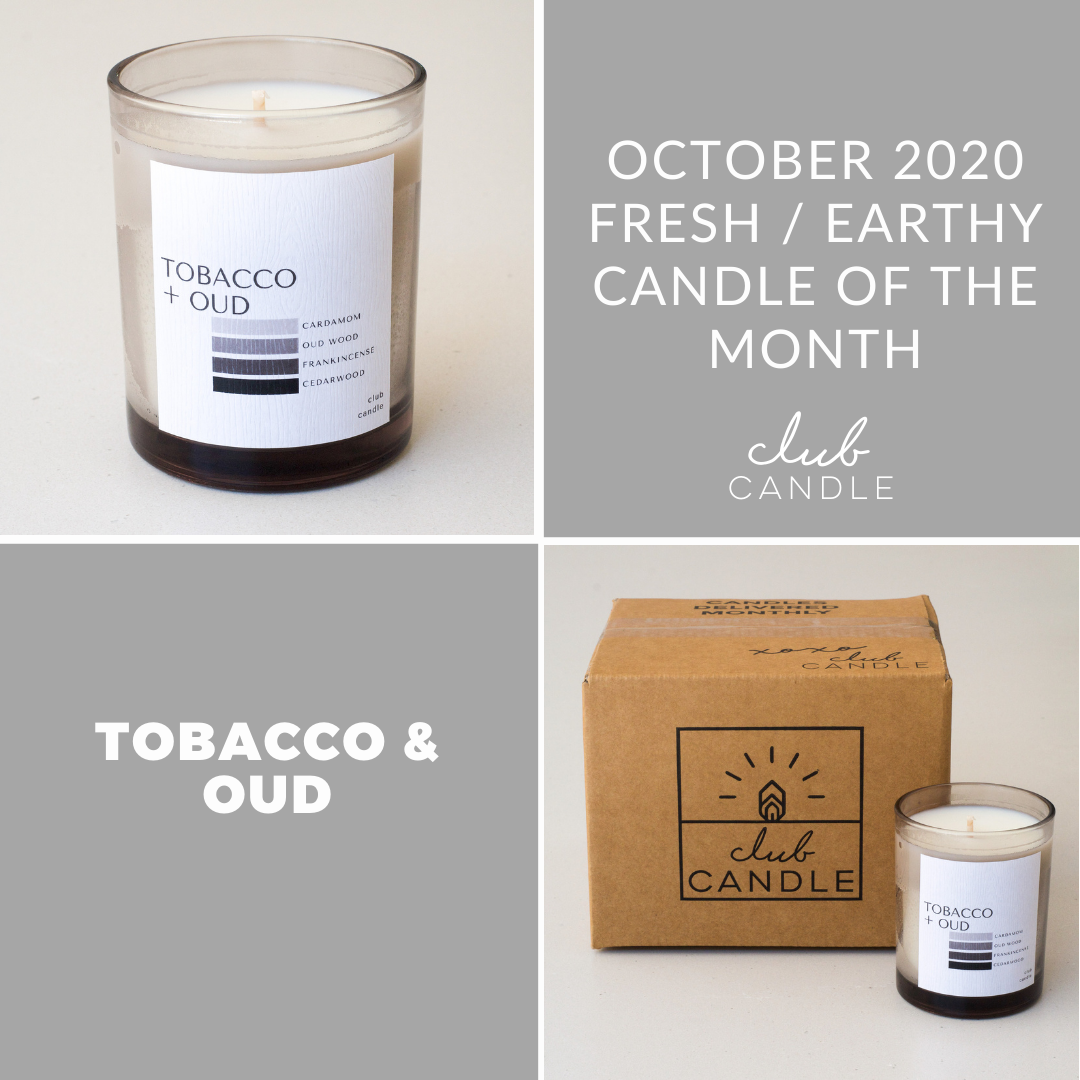 Our October 2020 Fresh / Earthy Candle of the Month is...Tobacco + Oud
With us all on lockdown and not getting to leave the country, we wanted to take you on a journey. You won't need your passport for this one. We're taking you back in time. Through the dark cobblestone streets, pass through a candle lit bookstore, where leather chairs and comfy sofas are spotted throughout. Large stacks of books are all around you. Listen for the crack of ice as the warm whiskey dances in crystal lowballs as you venture through the velvet curtain into a secret bar. In the air; tobacco smoke mingles with incense, prickling your nose.
Cardamon, whiskey, oud, patchouli, cedarwood, incense, tobacco and frankincense.
Did you get our hint? I'm smoking hot
You guys went crazy over our Midnight candle. We learn from the love and comments you share with us and on social media (follow us if you don't already) With this candle scent resonating with you we sourced another scent that we thought you might like. I was going to hold it for next year but it was just too good to wait.
You know we love a mood board and use one to help us choose and name our candles each month. This candle has such a grounding aroma. The earthy woody and smokey tones were the perfect match for the grey smoke vessel. Now can we take label. I'm so in love with the texture on this label. It's like a woodgrain feel that just makes the candle feel a like more lux.
With Christmas just around the corner we wanted to have a quick chat about gifting. With some amazing choices available you can give the gift that just keeps giving. Take a look at our Christmas Gift Guide so you can see what we recommend for those hard to please people in your life.
Loved Midnight? Then you'll looove our Tobacco and Oud Candle
Our Tobacco + Oud candle is available now. It's the best way to get exactly what you want.
---
1 comment
---
---