Candle of the Month – Tea Tree, Eucalyptus, Lemon, Peppermint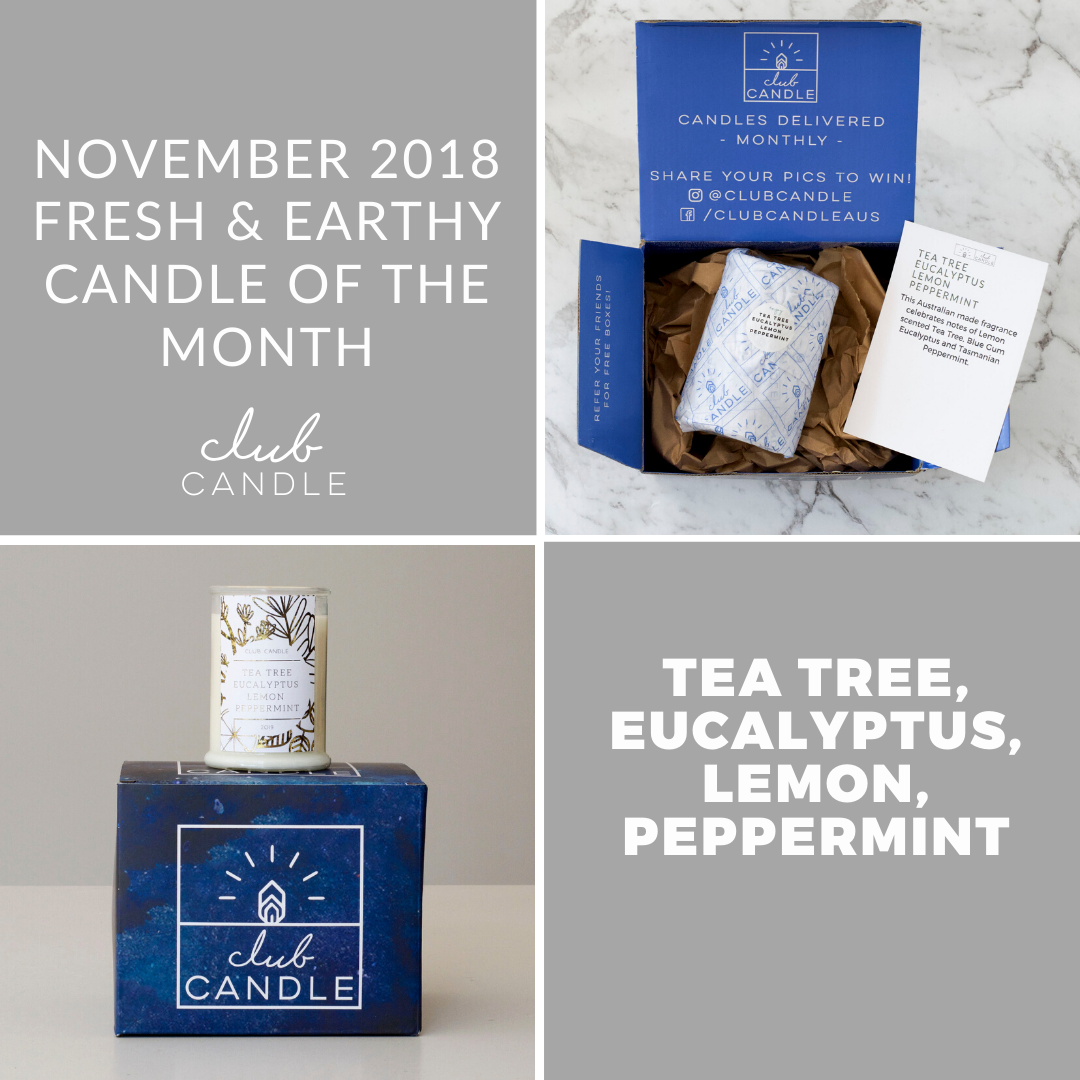 Our November 2019 Fresh and Earthy Candle of the Month is... 
Tea Tree, Eucalyptus, Lemon, Peppermint
We celebrate the unique and bountiful country that we are proud to call home. This Australian made fragrance celebrates notes of Lemon-scented Tea Tree, Blue Gum Eucalyptus and Tasmanian Peppermint.
We are so lucky to live in an amazing country where our backyards and bushlands are filled with towering Blue Gum Eucalyptus trees, Lemon-scented Tea Tree bushes, minty Peppermint or fresh Lemon trees. No matter where you reside, we wanted to pick a piece of our local nature and recreate a truly Australian scent. Poured into a clear glass jar using natural waxes and wick, we wanted to add a little bit of gold to the label as if it has been kissed by the Aussie sun.
Our candle club is purely Australian. Born from a true love of candles. Each month we choose scents with a purpose. We want to take a journey with you and fragrance. To transport you to faraway lands and places close to our hearts. Discovering new scent combinations that open our minds.
Want to buy this fauna candle?
Our Tea Tree, Eucalyptus, Lemon, Peppermint candle is available now. It's the best way to get exactly what you want. Click here to get it now
Welcome to Club Candle
If you are new to the world of Club Candle and not quite sure if you want to join the club. Try out by joining the mailing list. We promise not to spam your inbox. We keep it simple with a few emails on what we're doing, what the Club entails and even a bonus discount code or two. We are a candle company that's quite different from the rest. We don't so the same candles in the same jars with the same fragrances. We love colours, shapes and sizes, while always looking to stay with the trends we push the boundaries and mix it up with unusual styles to keep you surprised. We buy all our fragrance from Australian suppliers and blend them to encourage new and different scents to keep your mind entertained.
Click here to Join the mailing list
---