Candle of the Month – Cozy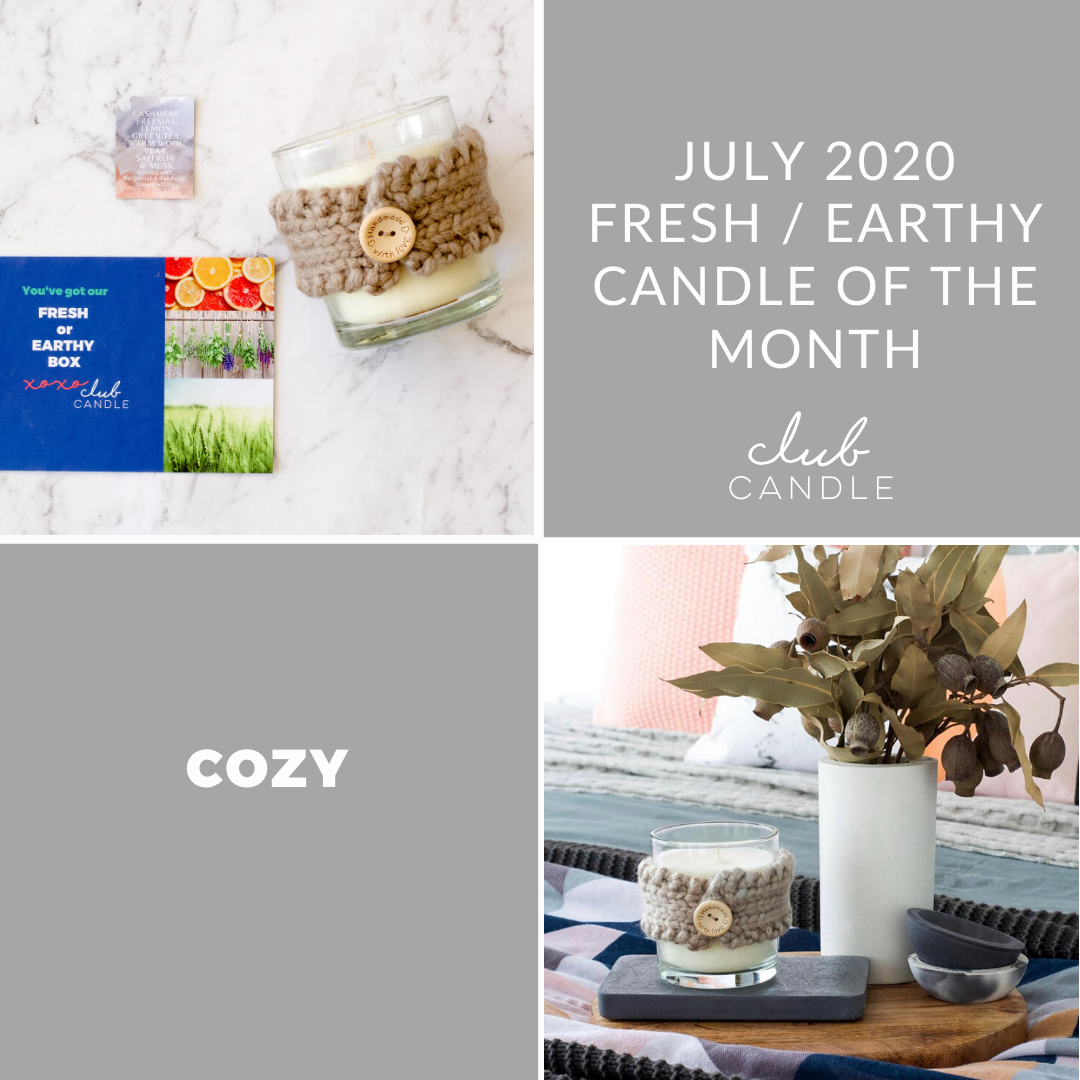 Our July 2020 Fresh / Earthy Candle of the Month is... Cozy
Cashmere, Freesias, Lemon, Green Tea, Warm Wool, Pear, Saffron, Musk
Infused with Bergamot and Patchouli Essential Oils
With us all spending most of our time at home, our challenge this month was to explore the concept of comforting themes. Our homes are our safe place, and we were inspired by natural textures, warm shades and scents to bring a feeling of warmth into our homes.
What's warmer than a chunky woolly jumper or cozy throw rug? This cozy candle.
My gorgeous Mother-In-Law (thank you Mum) spent most of lockdown hand making each and every one of our candle cozies. I hope you love them as much as I do.
Bonus - they can be used as a tea or coffee keep cup cozy.
I love that each month we can play with different concepts. Most candle companies are limited to their core range and then their seasonal scents. I get to say I'm so lucky that I get to create new candles, times two every month. With our containers always a bit different and our fragrances always changing every month is kind of like Christmas for me.
How does our club work?
The hardest decision is do you choose a scent type or just get the surprise. If you really don't love some scents you can always reach out to me and let me know. I have one lady that hates lavender and citrus which can be hard because Lavender is typically an earthy scent with citrus a cross over of both fruity and fresh. If you are really not a fan of some fragrances, please just reach out and tell me. If you have the box that features a scent like that I'll contact you and double-check if you'd like to swap your scent choice. It can be really hard buying candles online and even harder when it's a total surprise. Happy to have a chat to you if you have a few fragrances you don't love.
Want to buy this cozy cuddle of a candle?
Our Cozy candle is available now. It's the best way to get exactly what you want.
---