Candle of the Month – Campfire and Marshmallow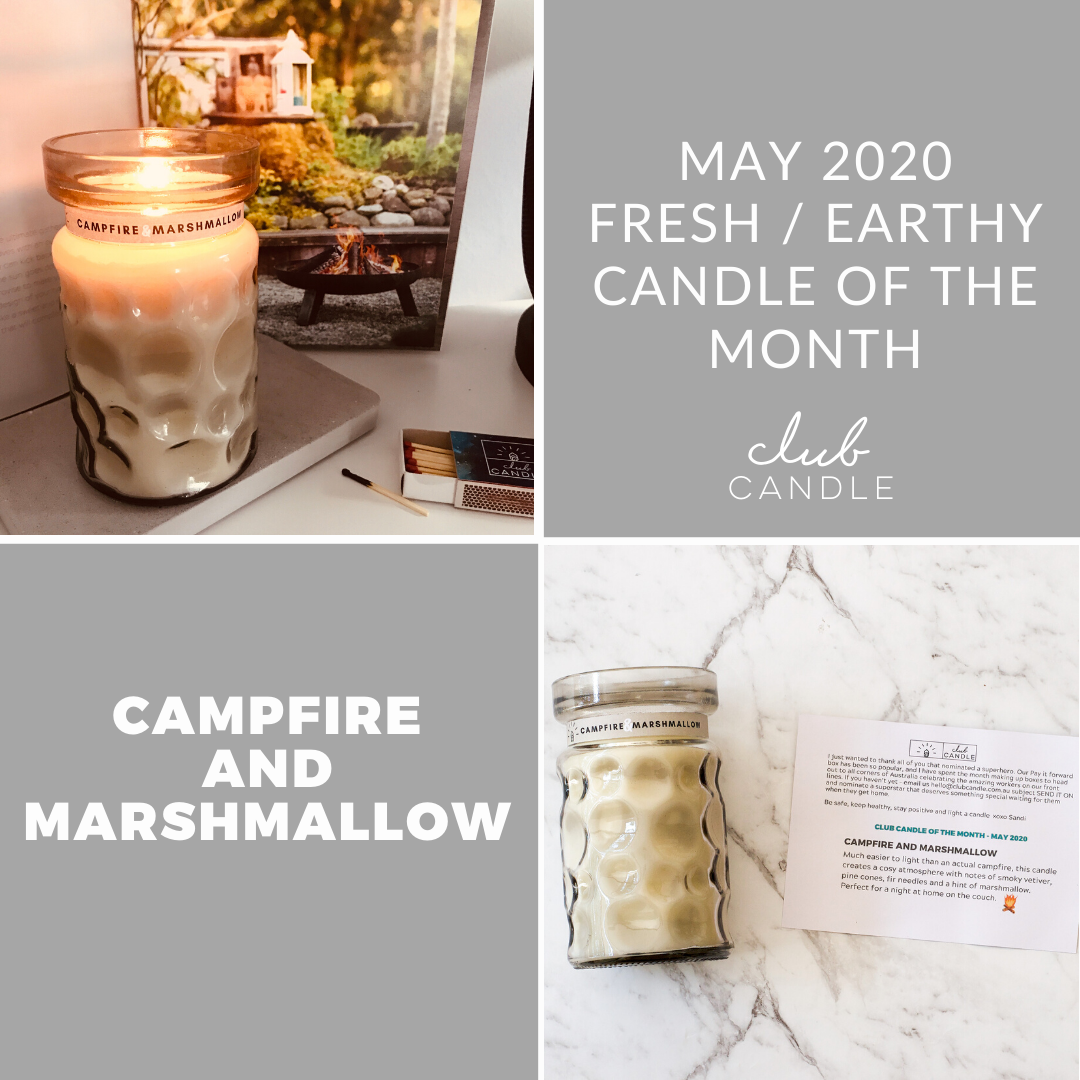 Our May 2020 Fresh / Earthy Candle of the Month is...
Campfire and Marshmallow 
Much easier to light than an actual campfire, this candle creates a cosy atmosphere with notes of smoky vetiver, fir needles, pinecones, and a hint of toasted marshmallow. Perfect for a night at home on the couch, cause we can't really get out to the campgrounds right now.
As the nights start to get chilly it's one of my favourite times of the year. We would usually get to hang out with friends. We have a few drinks, have a lot of laughs, sit around the outdoor fire and of course toast marshmallows. With us all nostalgic of those memories of a camping trip or just hanging out around the fire, I wanted to recreate that feeling. Blending the smoky hits of a campfire with the gooey goodness of a toasty marshmallow. If you close your eyes you are transported to the great outdoors.
I LOVE this jar!! When I first saw it, I just wasn't sure, but it grew on me. I get asked what I do first when a plan a Club Candle month. The truth is, it's a different process every time. I have a heap of jars to choose from and a candle library of fragrance and I'll pull out the jars and then smell some scents. Usually, I have a plan when I find the scent or the jar that I want to use, but sometimes I don't know what will match until I go through and try and pair the scent to the candle vessel. With this candle, I topped it off with a simple label around the neck of the jar and seriously impressed myself with how perfect it ended up. I hope that you loved this month's candle just as much as me and that it won't be too much longer until we can all spend a bit more time outdoors or with the friends we all miss.
Send it on to a Superhero
I just wanted to thank all of you that nominated a superhero. Our Pay it forward box has been so popular, and I have spent the month making up boxes to head out to all corners of Australia celebrating the amazing workers on our front lines. If you haven't yet – email us hello@clubcandle.com.au and nominate a superstar that deserves something special waiting for them when they get home.
Be safe, keep healthy, stay positive and light a candle  xoxo Sandi
Want to buy this cozy candle?
Our Campfire and Marshmallow candle is available now. It's the best way to get exactly what you want.
---